This year, holiday shoppers spent more in physical brick-and-mortar stores than ever before.
Joy to the World!
NOW - How do you direct those big spenders into your restaurant or pub before they rush home to roast chestnuts?
How do you direct shoppers into your restaurant?

Welcome holiday enthusiasts into your eatery by making dining with you part of a special holiday experience. Decorate with twinkling lights, garland, ornaments, bells, wreaths, anything that will make coming in to your restaurant a natural part of a seasonal delight. Here are some ideas.
How to Increase Revenue During the Holiday Season:



1. Share the Joy on Social Media
Keep holiday loving guests coming in by planning out a season of various weekly specials. Post a schedule of your special offerings on all of your social channels. Ask your connections and followers to upload photos of themselves enjoying the holiday fare. Offer a prize for the funniest selfie or the worst holiday sweater.
Photos of happy patrons enjoying holiday treats inspire others to come in and join the fun.



2. Embrace the Spirit of Giving
An ever-increasing business trend is giving back to the community that sustains you. Embrace the spirit of giving by offering to host a fundraiser or giving a percentage of a night's profits for a great cause. This is especially important if you cater to the under 30 crowd. "More than 9/10 Millennials would switch brands to one associated with a cause." So, to make an impact on Millennials, make an impact on the world. Who knows, they might even bring their parents.
Make sure to post your charitable efforts on social media. Share what the charity does and why it is important to you.
3. Offer Shopper Specials
Cross promote with retailers in your area. Can you offer a discount when guests show a receipt from a neighborhood store?
Ask the stores in the area to let customers know to visit your eatery with a receipt!
4. Increase the Average Ticket Sale
Add fun seasonal drinks to celebrate the holidays. Eggnog lattes, Pumpkin spiced coffee, Holiday spiced cider, Peppermint hot chocolate, etc. all make any day more special and increase the average amount spent.
Ask your servers to recommend the special holiday beverages while greeting guests at tables.
5. Live Music
Hire a local band to play all of the patron holiday favorites. Set up an interview to meet them and hear them play live. Ask how extensive their catalogue of holiday songs is, and if they can play other songs upon request.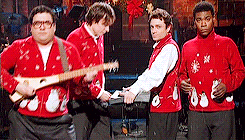 Hire a local band to play some holiday favorites



6. Host Company Parties
Contact businesses in the area and party planners to extend an offer for holiday parties. Spark some holiday spirit with decorations and lights. Consider hosting a special night for the owners/party planners to come and tour your restaurant. Focus on what makes your restaurant special: an open dance floor, a live band, karaoke, etc. Create samples from the holiday menu to dazzle them.
Whip up some of your best seasonal samples, along with a party price list to share with

businesses in your area.
7. Family Focus
Host a festive family night. Create a fun family atmosphere with twinkling lights and a decorated tree. Supply crayons, holiday coloring sheets and other easy activities to keep the kids busy while mom and dad enjoy a good meal.
Target moms, since they are typically the family event coordinators/decision makers.
8. Promote a Special Discount



Make a shopper's day merrier by offering a coupon or discount. This will bring more foot traffic and revenue into your restaurant. Give them an incentive to visit your restaurant for a great holiday meal after a hard day of shopping, then keep them coming back all through the year with seasonal discounts.
Post specials and discounts on social media to increase foot traffic and revenue.
9. Special Offer with purchase of Gift Cards
Consider offering a special gift with purchase of a gift card. This could be branded swag, a free meal or dessert, or an additional gift card for the guest to use themselves.
As the countdown to Christmas and Hanukkah gets closer, and shoppers begin to panic, market gift cards as amazing last minute gifts.



The fact that holiday shoppers spent more this year than ever before is even more astonishing when you consider the chunk that online sales has already taken out of the holiday shopping pie.

Increasing sales during the holidays is a present all restaurateurs would like to receive. With some planning and a little extra effort, your restaurant could become a holiday tradition for your best customers!